Mission Accomplished! NFL Purges Record-Setting White Running Backs, Position Remains Coal Black

by J.D. Cash
8 September 2005

The Caste System holds that "Whites Need Not Apply" at most football positions, an unwritten law that the NFL takes most seriously. Striving for many years to establish and maintain the tailback position as a racially pure, all-black domain, the NFL in 2005 preseason found two record-setting white running backs quickly disposed of without even being allowed to show what they could do in pre-season games.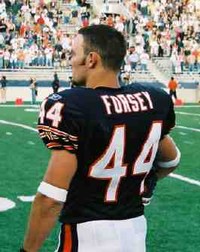 In his senior season at Boise State in 2002, Brock Forsey had nearly 2,000 yards of total offense and scored 32 touchdowns -- only Barry Sanders ever scored more in a single season. Being white, Forsey of course was a walk-on, who still managed to reach that level of success.

Selected late in the '03 draft by the Bears, Forsey was pressed into duty his rookie year when injuries waylaid the team's "real" running backs, i.e. the black ones. Forsey responded with 134 yards rushing and a touchdown against the Cardinals before quickly being relegated to emergency backup status again.

After sneeringly remarking that he looked more like a "team manager" than a running back, new Bears head coach Lovie Smith cut Forsey in 2004. However, jilted by rastafarian muse and belly button comtemplator Ricky Williams, the Miami Dolphins became desperate enough early in the '04 season to actually hire the melanin-challenged Forsey. Quickly realizing their mistake, Forsey was given no chance to win the starting tailback job and again was relegated to deep backup status before being cut.

Washington Redskins head coach Joe Gibbs, who smartly proved his fidelity to Caste System equal opportunity principles in his latest go-round as head coach by summarily cutting white WR John Standeford, the most prolific receiver in Big 10 history, without even as much as playing him in preseason games last summer, signed Forsey and promptly placed him behind seven blacks on the team's depth chart. Forsey was actually allowed to have a carry in a preseason game, and when he didn't "take it to the house" in that single carry, he showed his unworthiness for a roster position and was cut.

The other white upstart to challenge the NFL's Jim Crow laws this year was Jesse Lumsden, a 6-2 230 pounder with 4.4 speed who won the Hec Creighton Trophy last year as Canada's best college football player. Lumsden ran for 1,816 yards and 21 touchdowns, but being white, and a Canuck to boot, wasn't drafted by the NFL, which was far too busy taking "real" running backs like Maurice Clarett, with his blazing 4.84 40 speed and terrific work habits.

Obviously not knowing that only three or four NFL franchises would give him a chance even as a backup, Lumsden signed as a free agent with the Seattle Seahawks, run by veteran Caste System proponent Mike Holmgren. While head coach of the Green Bay Packers, Holmgren was horrified to find both a white tailback, Travis Jervey, and a white wide receiver, Bill Schroeder, on his roster at the same time. Mikey responded in admirable Caste System style, putting both in his "doghouse" while converting Jervey into that white NFL specialty role of "special teams demon" and Schroeder into the most hated player in the league.

According to an article in the Toronto Globe and Mail, Lumsden was promised some carries in preseason games, but Holmgren waived him well before the first cutdown date without allowing him a single touch.

White running backs are almost always purged after high school, before they can threaten the NFL's bastion of racial purity at the position by playing at a major college football program. The nation's 117 Division I-A programs, with very few exceptions, refuse to recruit and develop white running backs.

Occasionally a media article surfaces which acknowledges football's Jim Crow rules. For example, Fred Bacco was the top high school running back in Western Pennsylvania a couple of years ago yet not a single I-A school offered him a scholarship. The Pittsburgh Post-Gazette (1/27/04) carried this quote from Bacco: "I actually had a few college coaches tell me I was the wrong color to be a running back. I was surprised some coaches actually came out and said that."

Last year, a Tenneessee newspaper carried the story of how five star white high school running backs in that football-crazy state were all studiously ignored by I-A schools. Tre Smith, who may finally be getting a chance to run the ball at Auburn this year as a senior, was also told by college recruiters that he was the wrong color to be a running back, according to two different newspaper articles. The negative racial stereotypes faced by Chad Brinker, a star running back at Ohio University who was quickly discarded by the NFL, were detailed in another newspaper article which managed to slip by the censors.

Lumsden and Forsey are hardly the first white running backs who managed to star in college in spite of the Caste System who were then shunned by the NFL. Luke Staley, who starred at running back in high school in Oregon, was recruited by every school which offered him a scholarship to play a different position than running back, except for BYU, which gave him an opportunity to run the ball. Staley responded by winning the Doak Walker Award in 2001 as the best running back in the United States.

But Staley wasn't drafted until the sixth round of the 2002 draft by the Detroit Lions, who cut him the next year, even after Staley overcame a knee injury and was as impressive as any running back on the team during training camp. No other team subsequently picked up Staley, even as a backup, and the country's best college running back in 2001 was out of the NFL for good by 2003.

Chance Kretschmer of Nevada led the country in rushing yards in 2001 as a freshman even though he was a walk-on and otherwise had a fine career as one of the very few whites "allowed" to run the ball in Division I-A. However, he went undrafted by the NFL this year and no team had any interest in him even as a free agent.

Defenders of the Caste System claim that the NFL would love to have white running backs, but there just aren't any good enough to play. The reality is that whites are systematically steered away from tailback (and other positions) early on, and continually weeded out even as they succeed in high school and college. The purging of record setters Forsey and Lumsden this year shows yet again that the NFL is dedicated to racial purity at the running back position. The advocates of the anti-white Caste System in sports are undoubtedly cheering in delight.

J.D. CASH

Mr. Cash writes for Caste Football.