Caste Football Looks at the 2005 NFL Draft

by J.B. Cash
20 April 2005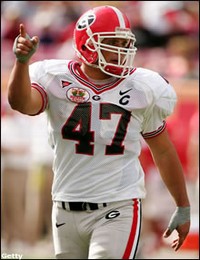 Defensive end David Pollack of Georgia

This weekend's NFL Draft looks to be pretty much a carbon copy of recent years, with an overwhelming number of blacks projected to be selected in the first round. Out of 32 first round selections, just seven whites were picked in 2003, and six in '04, with four of those being quarterbacks.

There are seven white players with a good chance of going in the first round this year, and a few others have an outside shot. QBs Aaron Rodgers and Alex Smith figure to be among the top five picks. After those two it may be a while before the next white player goes. DEs David Pollack, Dan Cody and Matt Roth all could eventually be first round picks, along with TE Heath Miller, and Matt Jones, who is usually projected to be a wide receiver, but has also been referred to as a tight end, quarterback and H-back.

Although most of the black quarterbacks in the NFL have flopped, I-A college programs continue to start more each year. Over a third of the teams now start black quarterbacks, but in 2005, as in 2004, almost 90 percent of the top NFL quarterback prospects are white.

Of the top 20 ranked prospects only two are black - Jason Campbell of Auburn and Adrian McPherson of Florida State. McPherson gambled on games while at FSU and was also arrested for passing bad checks. Asian Timmy Chang of Hawaii set all-time passing marks but is on the short side. He is generally rated around 18th. The rest of the top 20 are white.

How the quarterbacks will go after Rodgers and Smith is the subject of lots of speculation, with wildly varying predictions. The top QB prospects include Kyle Orton of Purdue, Charlie Frye of Akron, David Greene of Georgia, Andrew Walter of Arizona State, Stefan LeFors of Louisville, Ryan Fitzpatrick of Harvard, Dan Orlovsky of Connecticut, Jason White of Oklahoma, Derek Anderson of Oregon State, Gino Guidugli of Cincinnati, Chris Rix of Florida State, Dustin Long of Sam Houston State, and Brock Berlin of Miami.

The NFL strictly forbids whites from playing tailback, so of course all of the tailback prospects are black. Jesse Lumsden, a white tailback from McMaster University who is the best runner in Canadian college football history, has a combination of size (226 lbs.) and speed (4.46) comparable to Ronnie Brown of Auburn and better than all other running back prospects, but it would be a big upset if he is drafted. Scouts Inc., for example, ranks Lumsden as only the 41st best tailback in the draft. Of course Scouts Inc. has a tendency to rate whites as slower than they are. For example, they have Lumsden as running a lumbering, Maurice Clarett-like 4.68 in the 40 rather than the extremely fast mid-4.4's he's been running in workouts for several teams.

Chance Kretschmer had a fine career at Nevada, including leading the nation in rushing yardage as a freshman, but of course none of the draft experts give him a chance at making the NFL. Even as you read this Kretschmer is probably working out thrice daily and eating eight meals in order to bulk up for his true racial calling - blocking fullback.

Colt Colletti of Nichols State had the most bench presses of any running back at the Combine this year, but fat chance of that getting him anything more than an outside chance of making a roster as a free agent special teams player.


At WR, the experts are slowly, reluctantly admitting that Matt Jones [right] may play receiver in the NFL rather than tight end. It is only because Jones can run a sub-4.40 40 that he has not been consigned to play tight end - or perhaps even long snapper, as he was practicing doing at the Senior Bowl. At 6'6" and with that speed and great running ability and elusiveness, Jones is probably the best athlete ever to enter the NFL, as far as physical measurables. He played quarterback at Arkansas but because of his size, strong arm, speed and elusiveness he will not be allowed to play QB in the NFL because of the danger that he might shatter the caste system's treasured racial stereotypes about only blacks being good running quarterbacks.

Were Jones black, he would most definitely be playing quarterback in the NFL. He would also be the unanimous choice as the overall first pick of the draft. The 49ers, who pick first, would have already hired a special quarterbacks coach to work with him in areas where he is raw. Just like Tiger Woods and LeBron James, Jones would have already signed huge endorsement deals with various corporations and would have been featured on the covers of all the major sports magazines and be the subject of endless flattering updates on ESPN. He would be even better known than Michael Vick was coming out of Virginia Tech for the 2001 NFL Draft.

Assuming Jones isn't drafted by a team that turns him into a tight end or some other nonsense, the only other white WR with a chance of being drafted is Chase Lyman of Cal. Lyman was leading the nation in 2004 with a mind-blowing 29.6 yards per catch average before suffering a season-ending knee injury. With Aaron Rodgers throwing to him, Lyman was quite simply unstoppable. Despite still being in rehab, he went to the Combine and was able to run a 4.47 40, amazing under the circumstances. At 6'4" he can be an elite receiver if he can stay healthy and if a team will give him a chance.

White receivers who will probably hook on with teams as free agents include Cole Magner of Bowling Green, Bill Flowers of Mississippi, Andy Bertrano of McNeese State, Christian Pereira of Maine, Dustin Creagert of Humboldt State, and Rob Giancola of Valparaiso.

No fullbacks are expected to be high draft picks this year. Various "experts" lists of fullbacks have little in common as far as the way the prospects are ranked. Jon Goldsberry of Purdue, Mathew Tant of Vanderbilt, Kevin Dudley of Michigan and Kyle Eckel of Navy are the best white fullbacks; however none may be drafted. Eckel is an outstanding runner and should be entering the NFL as a strong candidate to be a starting tailback, but under the league's rigidly enforced caste system he'll be lucky to make a roster as a backup blocking back.

Heath Miller of Virginia is the top ranked tight end and is projected as a first round pick. He is fast, smart and has great hands. White tight ends who may be drafted in rounds 4-7 or possibly earlier include Joel Dreessen of Colorado State, Adam Bergen of Lehigh, Dave Kashetta of Boston College, Eric Knott of Michigan State, and Bo Scaife of Texas.

At offensive tackle most of the top prospects are black, as the league has come to favor sumo-sized linemen who take up lots of space but often turn out not to be nearly as athletic as advertised, with slow footwork and immobility problems. But after the top four is a large contingent of white tackles who should be drafted. Adam Terry of Syracuse, Michael Roos of Eastern Washington, Wesley Britt of Alabama, David Stewart of Mississippi State, Chris Colmer of North Carolina State, Adam Kleft of Central Michigan, Rob Petitti of Pittsburgh, and Pete McMahon of Iowa all rank among the top 15 ranked tackles.

Two-thirds of the leading prospects at offensive guard are white. Logan Mankins of Fresno State is projected to go in the second round. Adam Snyder of Oregon, Dan Buenning of Wisconsin, Evan Mathis of Alabama, and Nick Kaczur of Toledo could all be gone by the end of the third round. Other guards who should be drafted include Dan Connolly of Southeast Missouri State, Joe Berger of Michigan Tech, Justin Geisinger of Vanderbilt, Wes Sims of Oklahoma, and Nick Steitz of Oregon.

Center remains an overwhelmingly white position in the NFL, but five of the top seven center prospects this year are black. David Baas of Michigan could go in the second round, as could Richie Incognito of Nebraska. Others who may get drafted include Chris Myers of Miami, Rob Hunt of North Dakota State, Scott Mruczkowski of Bowling Green, Drew Hodgdon of Arizona State, Geoff Hangartner of Texas A&M, and Eric Chiaciuc of Central Michigan.

Joining David Pollack, Dan Cody and Matt Roth as talented defensive ends is Bill Swancutt of Oregon State, who should be drafted in the second or third round. Ryan Riddle of Cal, Jeb Huckeba of Arkansas and Simon Fraser of Ohio State may also be drafted.

Defensive tackle is pretty much a total black monopoly in the NFL and there is little in the offing to change that this year. Andrew Hoffman of Virginia is the only white among those considered as the top 15 prospects at the position, and he generally ranks only about 15th. Tim Bulman of Boston College and Vince Crochunis of Pittsburgh have a shot at being drafted.

More whites play inside linebacker in the NFL than any other defensive position, but there still aren't that many given a caste system that holds that whites aren't capable of playing defense. This year finds particularly thin gruel at the position, as only Adam Seward of UNLV, a possible third round selection, ranks among the top 12 inside linebacker prospects.

Things are a little brighter at outside linebacker, where Matt McCoy of San Diego State is expected to go in the second round. Barrett Ruud of Nebraska was a late first round pick in mock drafts a month ago but has since been dropped to the second or third round by most prognosticators. Jordan Beck of Cal Poly is a superb athlete. He is projected to go in the third or fourth round of the draft, and could be joined later by Zac Woodfin of UAB and Ryan Claridge of UNLV.

Cornerback remains a one hundred percent artificial black monopoly. Only a very few whites are allowed to play cornerback at the 117 Division I-A programs, the elite level of college football, and even when they excel they are immediately turned into safeties, Dustin Fox of Ohio State being this year's example. A track star with great speed and leaping ability, Fox was a star at cornerback for the Buckeyes, but must play safety at the next level.

One would think a star cornerback like Fox would at least be considered a high draft pick as a safety, but that is not the case. He is usually around the 8th spot at the position on most lists.

The highest rated white safety is Sean Considine of Iowa, who is projected as a third round selection. Fox is predicted to go around the fourth round. Matt Grootegoed, a linebacker at USC, is being converted to safety and could be drafted in the fourth round. Mitch Meeuwsen of Oregon State, Andrew Guman of Penn State, Justin Beriault of Ball State, and Jim Leonhard of Wisconsin all have an outside chance of being drafted. Three white safeties are almost assured of being drafted, while as many as six could be, so safety and end are the defensive positions with the best chance of seeing an increased white presence in the NFL as a result of the 2005 draft.

J.B. CASH
______________________________________

Mr. Cash writes for Caste Football.