The NFL - An Entrenched Bastion of Racism

by J.B. Cash
8 March 2005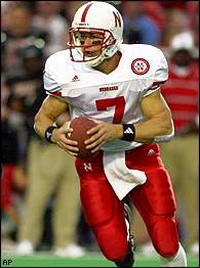 For some reason that is not obvious to the casual observer, the NFL appears to have an unspoken rule about NOT drafting and/or playing fast white quarterbacks.

While speedy black QBs are all the rage in the NFL, white QBs possessing the same skill are ignored and abused. The media are infatuated with mobile, fast black quarterbacks but not with white ones. Players such as the Atlanta Falcons' Michael Vick are superstars based almost solely on their ability to run with the ball. Yet generally, running QBs are not successful in the NFL. Bobby Douglas, a white player who set the NFL's single-season rushing mark for quarterbacks back in 1972 when there were almost no black quarterbacks, had very little success as a player.

Vick himself has not put up especially impressive numbers; he finished 2004 at 21st in quarterback rating. Despite his allegdly unsurpassed running ability he is sacked as often as any quarterback in the NFL. He also tends to fumble a lot. Turnovers are the ultimate no-no in the possession-conscious NFL yet Vick continues to receive unrestrained acclaim despite his glaring shortcomings as a quarterback.

Vick was a Pro Bowl player this year even though there were many more statistically deserving players. Along with Vick at QB for the NFC in the Pro Bowl were Donovan McNabb and Daunte Culpepper. Both players are running quarterbacks in the manner of Vick, but they have both stopped running as much and have concentrated more on passing, to the betterment of their teams. Still, both players will often tuck and run at the first chance.

However if the ability to run the ball as well as the ability to effectively pass the football was such a desirable trait then why is it ignored when those same qualities are present in a white quarterback? Several years ago when the running quarterback came into fashion there was a fine running quarterback out of the University of Nebraska, Eric Crouch.

Crouch had impeccable qualities for being amongst the crop of "new" running quarterbacks. He was from one of the biggest powerhouses in college football, Nebraska. He won the 2001 Heisman Trophy and played in a national championship game. He put up good passing statistics and he was an unquestioned pure athletic talent with tremendous elusiveness when running the ball. He ran the requisite 4.4 forty-yard dash with a 35-inch vertical leap at the NFL combine. If ever there was a player that had the talent to be the next Vick, or Culpepper, or McNabb, it was Crouch.

Amazingly though Crouch was drafted to be not a quarterback but a wide receiver! He fought the idea, rightly wanting to showcase his skills as a quarterback. But the firmly entrenched caste system segregated him to wide receiver. After a short trial at the position with the St. Louis Rams he retired in disgust. The Green Bay Packers lured him back with the enticement to compete to be the eventual replacement for star quarterback Brett Favre. However Green Bay decided Crouch should be a kick returner without giving him a genuine chance at the quarterback position.

So Crouch left Green Bay and is now being asked to learn to be a safety if he wants to play in the NFL. Clearly his athletic talent is acknowledged or he wouldn't be asked to play receiver and safety. Heck, the few white players "allowed" to play safety and wide receiver in college who then excel at it usually never get a chance to play in the NFL, let alone a former quarterback. Thus Crouch, whose only deficiency seems to be in the amount of melanin in the outer layer of his skin, will get no chance to cash in on the current fad for fast, athletic, quarterbacks.

One player who did get drafted to play quarterback and is fast and athletic is Mike McMahon of the Detroit Lions. McMahon has blazing speed and a cannon arm. He ran a 4.45 forty at the NFL Combine. But McMahon has been given little chance to play on the hapless Lions. The Lions spent a No. 1 draft pick on Joey Harrington and have been reluctant to change QBs despite several miserable seasons.

In the little playing time McMahon has received he has been exciting, as he is the kind of athlete that can make big plays. This is supposedly a premium quality in a player and the reason a guy like Vick gets an opportunity to play. Not for McMahon however. He has ridden the bench, will not get offered an extension on his contract and will have to go on the market where he can expect to be treated like other athletic white quarterbacks. The calls for him to play at receiver have already started.

The recently completed 2005 NFL Combine featured an eye-popping performance by Matt Jones, a white quarterback out of Arkansas. Jones ran sizzling 40 yard dash times of 4.41 and 4.39 — the fastest times ever recorded for a quarterback at the Combine. Jones also had a tremendous vertical jump of 39.5 inches. That was five inches more than the second best QB. He also had the longest broad jump among QBs at 10.9 feet. All this from a player that is 6'6" and weighs 240 lbs.

This tremendous athlete with four years of experience as a quarterback at Arkansas would seem to be an ailing NFL team's answer to Michael Vick. Instead, Jones has already been moved to wide receiver, so, like Eric Crouch, he will not even get a shot to play quarterback. Matt Jones — who possesses the talent to be the next great running quarterback — will get a token shot at receiver and have a short time to learn a position he has never played.

In a colorblind world where racial prejudice against white athletic talent did not exist, Jones, McMahon, and Crouch would be competing for headlines and awards against Vick, McNabb and Culpepper. Unfortunately the existing paradigm insists that white men cannot run or jump. And even when they prove it for four years at a major college, at the NFL's own testing Combine, and in limited play on the field, it still is not enough. There is no amount of evidence that can be presented to coaches, media and the fans, that will convince them that there are white athletes that can compete with and even surpass black athletes when it comes to football. They find it not the least bit odd or out of place when entire decades go by without a single white tailback getting a chance to play as often as the most mediocre black running back, or when there is not a single white cornerback out of 160 at the position in the NFL, not even a single one good enough to be a scrub backup.

Good athletes like Matt Jones, Mike McMahon, and Eric Crouch, are the victims of a systematic type of prejudice: anti-white athletic bias. We call it the caste system. It is unfair and wrong and needs to be pointed out, acknowledged, and ended.

It is not just at the quarterback position, however, that the caste system shows its bias against whites. The running back and cornerback positions are also intentionally racially segregated despite white players proving they are capable of playing there.

A further example of anti-white bias is this observation from Don Wassall, an expert on the caste system, commenting on the bias exhibited by Mel Kiper, who for years has been promoted by the media as the country's leading expert on the draftability of college football players:

"Kiper has moved RB Ronnie Brown of Auburn to his number-one NFL prospect. Here's what he writes about Brown: 'Had an outstanding workout at the combine, running the 40 in 4.48 while weighing around 230, which only adds to the already impressive profile Brown has. He showed against several opponents in 2004 that he is one of the most complete backs in the nation, running and catching the ball with equal skill. He averaged over six yards per carry this season and had 34 catches. Brown has the size, instincts, power and quickness to put up unbelievable numbers and would have been a Heisman candidate had he been the clear-cut No. 1 on the depth chart. An explosive powerhouse with speed and strength.'

"What struck me right away when reading Kiper's assessment of Brown is that [white running backs] Luke Staley and Travis Jervey both weighed close to 230 pounds and both ran even faster than 4.48 coming out of college, and Staley was coming off one of the very best years a college running back ever had. Staley was drafted in the final round and never given a chance, and Jervey was always treated like a joke. They weren't deserving of a chance while a black with similar physical attributes 'has the size, instincts, power and quickness to put up unbelievable numbers. . .' and may be the first pick in the draft. If you want to see the essence of the caste system in black and white (pun intended), there it is."

It is not only at quarterback and running back that white players are discriminated against but also at the cornerback position. Here's a description of Dustin Fox, a stellar cornerback for the Ohio State Buckeyes, who is eligible for this year's draft (provided by a contributor to Caste Football):

Fox has a 40-inch vertical and can run with the best of them. Dustin was a track star in high school. He also led Ohio State in solo tackles two years ago and was second in solo tackles last season. The big question is, will any team in the NFL allow him to play cornerback at the next level? Unfortunately, the answer to that question was already being answered some seven months before the 2005 NFL Draft.

A service called "Scouts Inc." rates college players for ESPN. In the intro to this year's senior class of prospects at the various offensive and defensive positions, cornerback Dustin Fox is included not as a cornerback but as a safety: "This year's safety class doesn't have a Sean Taylor (#5 overall pick to the Redskins in 2004), but Oklahoma's Donte Nicholson, UNLV's Jamaal Brimmer, Georgia Tech's James Butler and Ohio State's Dustin Fox (plays cornerback for the Buckeyes but should move to safety in the NFL) are all potential NFL starters that warrant consideration between the late first and second rounds."

And here is Scouts Inc.'s capsule description of Fox: "Grade 77 [out of 100]. Bottom line: Fox started two of the 12 games he played in as a true freshman in 2001 and saw action both at safety and cornerback. Fox has been a full-time starting cornerback since his sophomore season in '02. He started all 13 games as a junior in '03 and finished with 77 total tackles, three TFL, three INTs and nine PBU. Fox has a chance to make it in the NFL as a cornerback but it likely would have to be in a zone-coverage scheme where he would be protected deep. Fox has great experience at cornerback and less so at safety, but we think his best chance of making an impact in the NFL is at safety, where he will need to add some bulk and adjust a bit to playing in so much space. Regardless of the position move or not, Fox should be a Day 1 draft pick who can contribute immediately on special teams and likely as a sub-package defensive back for the first season or two in the NFL while he is finding his niche."

There you have it - a track star that is a star at cornerback for one of the country's biggest programs can't play that same position in the NFL without being "protected deep." Note that Scouts Inc. doesn't say that Fox doesn't have great speed; he just isn't suited for reasons not given to be a cornerback. Better that he "bulk up" and play safety, similar to how the few white college tailbacks often have to "bulk up" and play fullback, and white wide receivers often have to "bulk up" and try to make it in the NFL as a tight end.

No other standout senior cornerback except for Fox is being pushed by the draft "services" to play in the NFL as a safety. There is one reason and only one reason that Dustin Fox "should move to safety," as Scouts Inc. puts it: Dustin Fox is white and whites aren't allowed to play cornerback in the NFL. The media, Division I-A college football, and the NFL, all cooperate in this systematic, decades-long racism against deserving white football players.

Another bias against white players is the lack of opportunity for white players that are fast but short in height. The NFL is full of "smurfs" — short black players that can star at running back, receiver, and defensive back, but there is only one place a short white speedster can very occasionally play - kick returner. This year's example is Dan Shelton. Wide receiver Dan Sheldon's second 40-yard run at this year's NFL Combine was at an official 4.37, considerably faster than most of the black wide receiver hopefuls. He has tremendous speed, but at 5'9" and white, the best he can hope for is a kick-returning job, and truth be told, even that is highly unlikely in the rigidly segregated NFL.

Thus we are told constantly that white players are athletically inferior to black players. That white players are too slow or can't jump. But even when ample evidence is presented to show that it's not true, it still makes no difference. For reasons unmentioned whites are told they are not suited to play quarterback, running back, or defensive back.

But the reason is obvious: ANTI-WHITE RACISM. When blacks have been under-represented at occupations, there is always a strong governmental, corporate and media campaign to recruit and develop more of them. In sports, not only is there no interest in having whites playing at the highest levels against black at most positions in football, the few that break through the institutional barriers and manage to play at a high level in college are rarely given a chance to go on to compete in the NFL.

The power structure that claims to be so appalled at black under-performance in non-sports-related areas, maintains an artificial construct of absurdly overdone "black racial superiority" when it comes to certain sports and the way the media covers them. At Caste Football we are committed to exposing this wrong and having it righted.

J.B. CASH
_________________________________

Mr. Cash writes for CasteFootball.